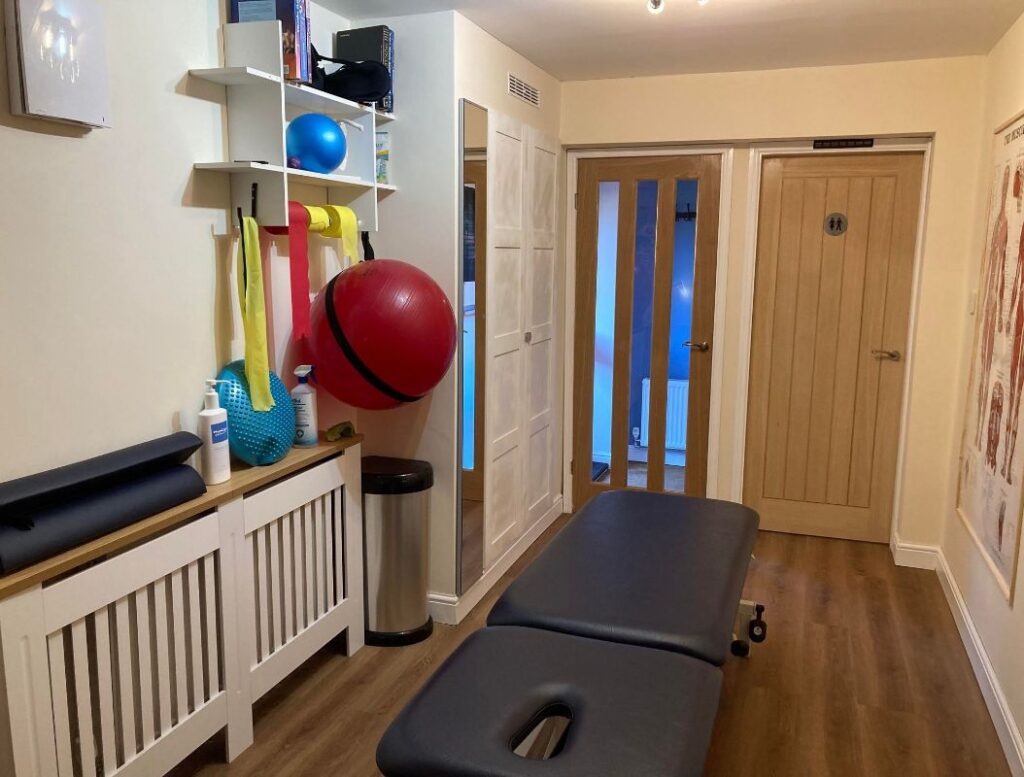 3 Thickthorn Orchards
Kenilworth
Warwickshire
CV8 2SH
Treatments cost £65
Welcome to The Reinge Clinic in Kenilworth! Formerly based in Bristol, we relocated and settled in Kenilworth in September 2019. Our journey started with using rooms on Warwick Road, but we soon realised the need for a dedicated space to cater for our growing client base.
In 2021, with expert design by Gina and Ian, we unveiled our bespoke clinic facility in the serene area of  Thickthorn Orchards in Kenilworth.
Our clinic is thoughtfully designed to create the perfect space for treating clients of all kinds. We prioritise your safety and comfort with our own toilet facilities and specialised air purifying systems.
At The Reinge Clinic, we take pride in our achievements and recognition within the industry. In 2018, The Reinge Clinic,  was honoured with The Award for Pain Management, Injury Prevention, and Rehabilitation by the FHT. This prestigious award acknowledged Gina's remarkable work in treating the condition Adhesive Arachnoiditis. 
Our approach to healthcare is what sets us apart. Combining our extensive knowledge in Physiotherapy, Sports Therapy, and Sports Science, we offer bespoke assessments and treatments that address the root cause of your concerns, moving beyond symptom management. As a result, we bring a unique skill base to the people of Kenilworth and the surrounding areas.
Our husband and wife team boasts an impressive and diverse qualification base.  We use that collective knowledge and experience to ensure you leave with a permanent solution, whether you're dealing with a chronic health condition or a specific injury causing you pain.
We are eagerly looking forward to welcoming you to our Kenilworth treatment space.
Frequently Asked Questions
Yes absolutely! The Reinge Clinic is situated in the quiet, residential area of Thickthorn Orchards,  so we encourage clients to park on our driveway rather than on the road.
There is also a small lay by that can easily be parked in just a few minutes walk from the clinic. 
There is one step to get into the lobby area and another to step into the clinic space. Both these steps have grab handles installed to help those with mobility issues. 
If you use a wheelchair, please contact us in advance so we can see whether we can modify the entrance to accommodate your particular chair. If not we will look at whether a home visit can be arranged. 
Please contact us before you book in and let us know that you would like to use your Private Insurance.
We can then check you are booked with the right therapist and that the insurance company will cover your treatment session.
Most insurance policies can be used for Physiotherapy treatments with Ian although we are not registered with Bupa.
Please be aware that Gina is a Sports Therapist and not a Physiotherapist, so if you want to use your health insurance you will, most likely, need to book in with Ian.
Some Cash Back Plans can be used for Sports Therapy and Sports Massage treatments, however, it is best to check with your Cash Back scheme first if you are planning to fund your appointments this way. 
Yes, we have a card machine and are able to take card payments, as well as cheques on the day. Due to branch limitations locally we prefer not to receive cash. 
We also have the option of payment links so you can pay via cards and apple pay, and we can provide bank details for bank transfers.  
If you have a complex health condition, or multiple health conditions,  we will always discus your situation with you prior to any appointment. We want our treatments to work for you, so, if after chatting to you we are unsure whether we can help; we will usually offer a Free assessment to confirm whether we can help with your specific issue.
For those with complex conditions, we will be able to suggest which of our therapists will be the best one for your specific situation.
Yes we can. We have several ways of referring you for imagery if we feel it is necessary. 
We would start by writing a letter to your GP detailing the condition and why we feel a Scan or X-ray would be useful. Unlike many clinics, we don't charge to write letters to GP's.
If you would prefer to go private, we link in with Scan.com and several local private scanning companies. We can quickly and easily refer you directly for a Private MRI Scan, Ultrasound Scan or X-Ray should you need it without the need for GP involvement.
The results are then sent directly to us,  as well as to you, and we are then able to explain them to you and  to write to your GP for a consultant follow up should this be required.