Cycling Analysis Leamington Spa
Enhance Your Cycling Experience in Leamington Spa: Elevate your cycling journey with our specialised Cycling Analysis Leamington Spa services. Our program is designed to cater to all levels of experience.
From beginners taking their first pedal strokes to seasoned athletes aiming for peak performance, our focus on injury-free excellence, coupled with our expertise in Sports Science and Biomechanics, ensures you achieve your cycling goals effectively.
Explore the comprehensive benefits of our tailored Cycling Analysis in Leamington Spa, to optimise your riding experience like never before.
Why have a Cycling Analysis?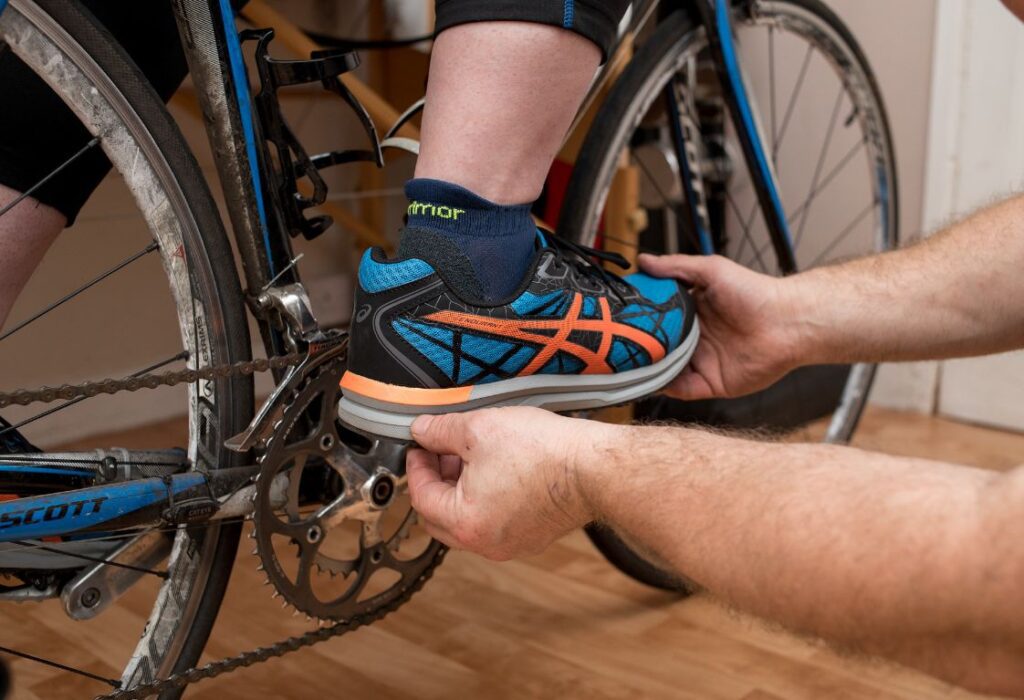 Exploring the Intricacies of Cycling in Leamington Spa: Within the captivating realm of cycling, a fascinating interplay emerges between the linear mechanics of the bike and the intricate rotational mechanics of the human body. Our diverse clientele, hailing not only from Leamington Spa but also beyond, often arrives with meticulously tuned bicycles, only to grapple with discomfort and underwhelming performance.
Curiously, the root causes of such challenges seldom rest solely within the bike's mechanisms. Instead, they frequently find their origins in the rider's biomechanical nuances. These intricacies can stem from past injuries or, more commonly, subtle habitual movement patterns that evade detection through conventional bike fittings. This is where our distinct approach shines – at the heart of our methodology lies Cycling Analysis Leamington Spa, a paradigm that enhances a traditional bike fitting.
Allow us to introduce you to Ian, our  Cycling Analysis Leamington Spa specialist. Ian seamlessly melds his expertise in Biomechanics, Physiotherapy, and Sports Therapy with the finesse of bike fitting, resulting in an unparalleled service. This harmonious fusion guarantees an elevated cycling experience around the location Leamington Spa that is unparalleled in the area.
What happens during a Cycling Analysis?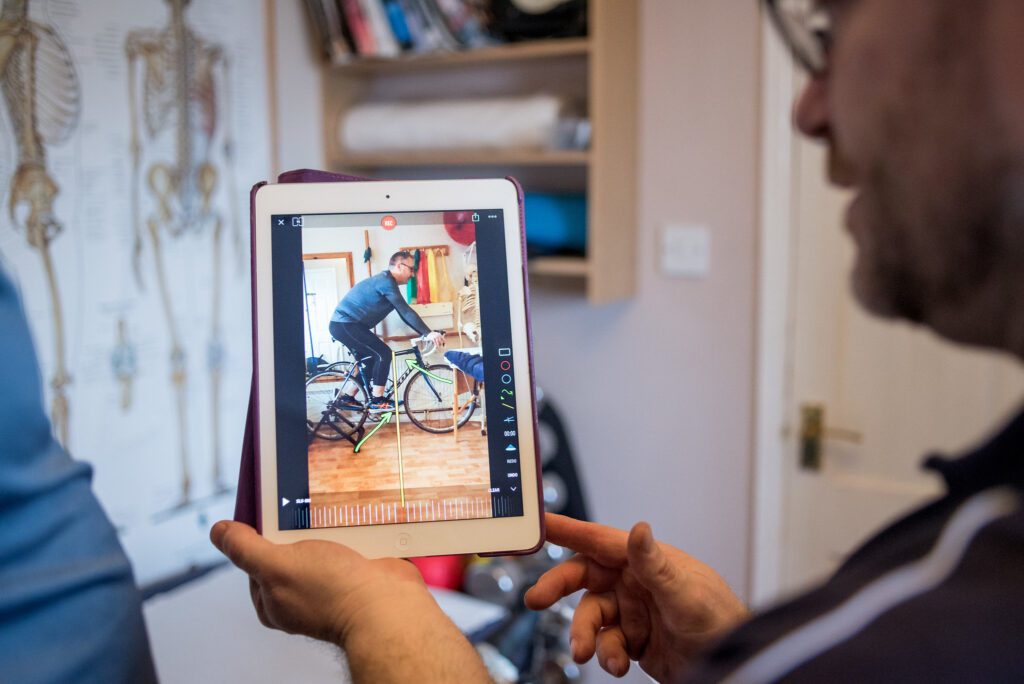 Our specialised 50-minute Cycling Analysis Leamington Spa sessions offer a comprehensive evaluation that spans both on and off-bike assessments. Our goal is not only to identify your optimal cycling setup, limit and fix injuries, but also to enhance your body's efficiency during every ride.
Tailored precisely to meet your unique needs, our Cycling Analysis Leamington Spa sessions kick off with an in-depth bio-mechanical assessment while you're off the bike. This crucial step allows us to pinpoint any limitations or weaknesses that could impact your cycling performance.
Once the off-bike assessment is complete, our attention shifts to observing your on-bike capabilities. While we often utilise a turbo trainer to capture video footage of your cycling technique, certain issues may only manifest during real-world rides. In those cases, Ian, our experienced specialist, will accompany you while riding, recording your technique for analysis.
With the recorded cycling footage in hand, we embark on a meticulous video analysis, employing slow-motion playback to gain a profound understanding of your movement patterns while cycling. Recognising the symbiotic relationship between the human body and the bicycle, we delve into the reciprocal influence – how your body and the bike interact and impact each other.
As we identify any limitations, our expertise in strengthening exercises and hands-on techniques comes into play, refining your mechanics and alleviating discomfort. Occasionally, adjustments to your bike settings might be recommended. In such instances, we ensure the newly configured settings align perfectly with your needs by re-evaluating your technique with the video recordings.
Elevate your cycling experience right here in Leamington Spa through our dedicated approach to Cycling Analysis Leamington Spa.
What can we do for Cycling Injuries?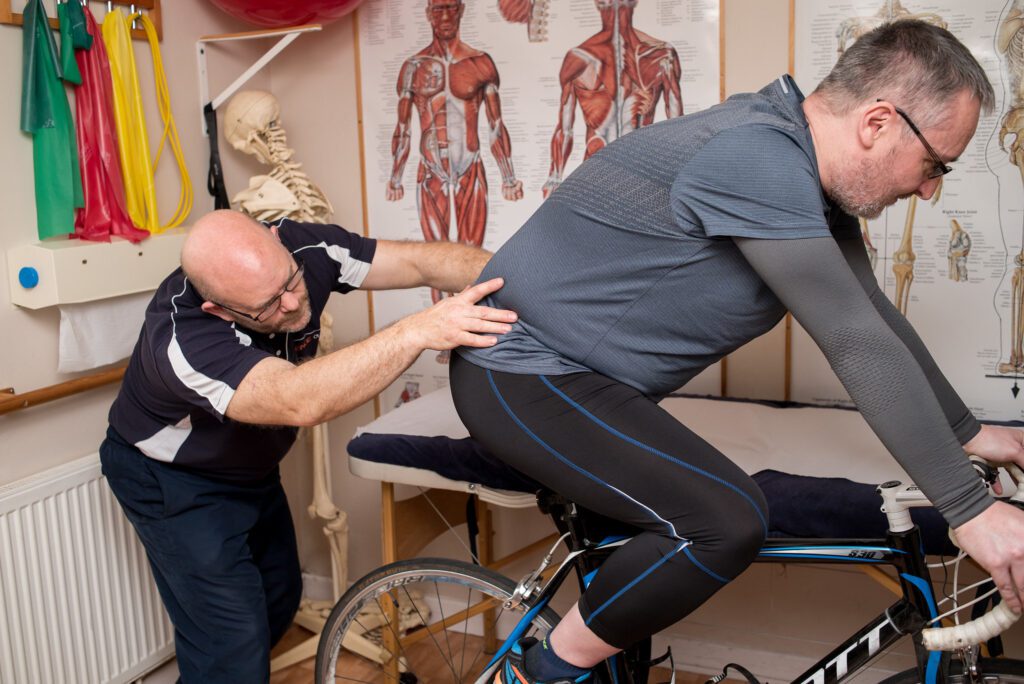 Cycling often leads to a range of discomforts and injuries, with some stemming from ill-fitting configurations or misaligned bike geometries that don't suit your body.
Our specialised sessions for Cycling Analysis in Leamington Spa are designed to expertly identify and rectify these issues by conducting a meticulous examination of your body and bike. Despite perfectly good bike fitting, certain specific problems commonly arise, particularly concerning the shoulders, back, and knees. Our assessment protocol includes a comprehensive evaluation of pelvic mobility, knee dynamics, body alignment, and a thorough assessment of ankle movement.
Consider the common issue of knee pain that plagues many cyclists. In our Cycling Analysis Leamington Spa sessions, we often observe a knee movement pattern resembling a figure-eight rather than a smooth linear trajectory.
The subsequent step involves delving into the underlying cause. This could be attributed to the bike's setup or limitations in your ankle's biomechanics. Sometimes, it may even result from insufficient foot strength or constraints in hip movement.
To address these concerns, we offer personalised solutions, including fine-tuned pedal customisation using shims as necessary. We also explore options like altering pedal type, experimenting with different footwear, or adjusting pedal float. Alternatively, our approach might involve addressing your biomechanics through a combination of Physiotherapy and Sports Therapy, supported by specialised strength and flexibility exercises.
Frequently Asked Questions about Cycling Analysis Leamington Spa
We would chat to you on the phone first as everybody has an individual situation, but in general please bring all your usual cycling gear including your bike(s).
We usually ascertain on the phone whether your bike will fit our turbo trainer. Those with Carbon bikes often prefer to bring their own turbo trainer and this is fine.
In short, yes absolutely. It does not matter how you ride, whether that be racing, as a commute to work, or just a gentle cruise around the country side. The same mechanical principles apply to anyone riding a bike.
Ultimately, every bike needs to work correctly for you and your body mechanics. We frequently analyse people who use Brompton's and other fully upright bikes, as well as mountain and road bikes.
We are not 'bike fitters' but we are trained in bike fitting. Therefore, we will usually ask you to make the actual adjustments  yourself to your bike, while you are with us to guide and support you.         
If you are not handy with a spanner we do tie in with one of area's top bike fitters  or we can do the adjustments for you but we would need to discuss this in advance.
Ian is our cycling expert. In his younger days he was a Triathlete and has always been a cyclist. He began cycling seriously at 8 years old and built his first true road bike at the age of 11, which he still owns 43 years on!
You can book using our online booking system. Or you can email us or call us directly.
We don't use receptionists, so when you call or email you get directly either Ian or Gina, who can answer any questions you may have, prior to making a booking. 
What Our Clients Say About Us?
I visited the Clinic for a running gait assessment and was really impressed with the information and guidance Ian was able to provide to help me tackle an Achilles problem after a short video assessment. He was very professional, knowledgeable and gave me confidence that the issue is not the end of my running career! I would recommend him to anyone wanting to get to the bottom of a sports injury. His advice was practical and helpful. Thank you.
It is six years since I had a gait assessment which was on a tread mill. So visiting the clinic for a new gait assessment after all these years was nothing like I expected. Ian's approach by videoing my gait with me running and then analysing in slow motion was massively revealing. Even more revealing when I repeated the run in one of my older pair of running shoes. I now understand why I am prone to so many injuries.! Ian was able to give me a series of exercises to help strengthen the weak points that were picked up. A fantastic approach to injury treatment and even better to provide a route to prevention in the future. A very down to earth and practical advice which has now also helped my rebalance my training regime to help reduce injury and rejuvenate my running. Thank you
I went to the clinic for a running gait assessment with Ian. No specific injury problems, but from the wear on my running shoes I knew there was something not quite right. A very professional approach to not only analysing my style but also identifying the cause of the problem. Suggested exercises provided which should help, and the offer to review again in a few months if I sent a video. Couldn't really have asked for more.
I used The Reinge Clinic to help me with my gait as I was training for the London Marathon. My running technique was all wrong, but with their help, it improved significantly, and I finished my first marathon at the age of 46. The sports massages kept me in top form and free from injuries. I would give them 5 stars and will definitely return to them in the future!
I am a keen cyclist and runner. I visited the Reinge clinic as a result of continued tightness and discomfort in my IT band. Gina was fantastic. Her approach was friendly and professional. She had fantastic knowledge and was able to articulate this in a way that was easy to understand. Gina was focused on addressing the underlying causes of the injury and providing long term solutions. I would highly recommend the Reinge clinic for both injuries and ongoing maintenance.
I attended the Reinge Clinic with a back problem and painful right hip caused by some rather over enthusiastic running. Gina immediately identified the underlying cause and over three sessions together with her recommended exercises the problems have been resolved. A very friendly and professional service. I would definitely recommend the clinic.
It is six years since I had a gait assessment which was on a tread mill. So visiting the clinic for a new gait assessment after all these years was nothing like I expected. Ian's approach by videoing my gait with me running and then analysing in slow motion was massively revealing. Even more revealing when I repeated the run in one of my older pair of running shoes. I now understand why I am prone to so many injuries.! Ian was able to give me a series of exercises to help strengthen the weak points that were picked up. A fantastic approach to injury treatment and even better to provide a route to prevention in the future. A very down to earth and practical advice which has now also helped my rebalance my training regime to help reduce injury and rejuvenate my running. Thank you
Learn more about Cycling Analysis in Leamington Spa